SOUTH SPRING FLEA MARKET:
A reminder that it's not too late to sign up for the Spring Flea Market, or come out shopping to find some great bargains!!!
Click here for the
 flyer for more information on the event, and how to reserve a spot to sell!
Feel free to forward to everyone in your address book, and hope to see you on Saturday!!!
- Spring Flea Market Committee
SENIOR PROM FLOWERS FOR SALE:
Senior Prom Flower Sale coordinated by the PTSA:  
Sale dates are THURSDAY, May 22, FRIDAY, May 23 and TUESDAY, May 27 during lunch in THE SENIOR HALLWAY.  
Beautiful wristlets and boutonnieres of all colors and styles from McCaffrey's will be available for sale to complement your prom attire! 
Flowers must be paid for at the time of order; CASH ONLY.  Pick-up of flowers will be Friday, May 30 at 11:20 am. 
Click here for Senior Prom flower flyer. Any questions, call Liz at 609-790-9559.
 
JUNIOR EXTRAVAGANZA FLOWER SALE:
Sale dates are Friday, April 25, Monday, April 28 and Tuesday, April 29 during lunch in C-1.  Beautiful corsages and boutonnieres of all colors and styles from McCaffrey's will be available for sale to complement your prom attire! 
Flowers must be paid for at the time of order; CASH ONLY.  
Pick-up of flowers will be Friday, May 2 during school hours. Any questions, call Liz at 609-790-9559.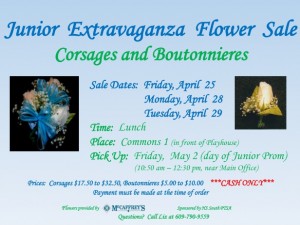 SPRING FLEA MARKET:
The weather is catching up to Sping – like weather so it must be that time of year to the HSS PTSA SPRING FLEA MARKET.
It's that time of year again to start thinking about the Flea Market and cleaning out your house. The West Windsor Plainsboro High School South PTSA welcome you to participate for this year's Spring Flea Market which will be held on Saturday 6/7/2014 rain or shine. Feel free to pass this email along to all your friends in your address book because everything is more fun when you have friends to share in the fun!!
The Flea Market will be held outside in the Parking Lot on Princeton Hightstown Road. A single parking space is $15.00. You are welcome to purchase single or multiple spots. Gather your friends and neighbors to make extra money from your former treasures!
Click here for the flyer / application for participating for the 2014 Spring Flea Market at High School South. Please feel free to contact us should there be any questions.
PLEASE MAKE CHECKS PAYABLE TO WWPHS PTSA
MAIL TO: FLEA MARKET WWPHS SOUTH
346 CLARKSVILLE ROAD
WEST WINDSOR, NJ 08550
Attention: Fall Flea Market

FREE PRACTICE PSAT TEST:
Freshmen and Sophomores:  Take a Practice PSAT test under test-like conditions on Monday, May 5th from 7 – 9:30 pm at HSS. Student PTSA members are free and non-members are $6.00.  To register, click the attached file, complete and return it to the main office by 4/25.  If you have any questions, please contact Lisa Sheffield at Sheffieldandsons@aol.com.

JUST WRITE A CHECK:
  "Please support our "Just Write a Check" fundraiser program. 100% of your donations will go towards activities and programs for students and parents.  Please click the following link:
CLOTHING SALE:
 Show your school spirit and support the PTSA. If you are interested in purchasing the South clothing listed on the following flyer, please email Micki Kermani at nevmick@verizon.net.
 CAR MAGNETS:
 Please buy a High School South car magnet for $5.00 and show your SCHOOL SPIRIT.  Please contact Micki Kermani at 609 443 6156 or nevmick@verizon.net to purchase them.
WHY JOIN YOUR SCHOOL PTSA?

1) Stay Connected: There's no better way to know what's happening at High School South as PTSA sends
regular email updates to members, and meetings are attended by South's principal.

2) Great Resources: PTSA offers a variety of programs designed for parents as well as students: college information sessions, panel discussions, interesting and informative speakers and members receive free
admission and access to a free PSAT test each May.

3) Member Benefits: PTSA members have access to exclusive benefits and sponsor offers through the National PTA from vendors
such as HP, MedicAlert, MetLife Auto & Home, OneCause Credit Card, Sharp Electronics, T-Mobile and Southwest Airlines. Go to the 
PTA Website to access these benefits, or click the link on the menu at left to download a brochure.

4) Tap into a Network/Speak Up/ Get Involved: PTSA meetings and functions are opportunities to meet other parents, teachers,
and administrators, building rapport and discussing issues at HS South that are on your. PTSA can be a way for you to more effectively suggest change (offer your opinions, share your concerns) at HS. There are many different committees to join, depending on your level
of interest and availability. Set a Great Example – Studies show active parental involvement in schools adds so much to our children's education. By getting involved at HS South you'll be part of the solution, helping make positive changes. The HS South PTSA plays an important role in fundraising to provide scholarships to graduating seniors, mini-grants to teachers and student clubs, and building improvements.
Become part of the organization that works hard for the students with programs such as Junior and Senior Prom Flowers (sold and delivered on-site at South at great prices!), PSAT free practice test for student members, Summer Reading Program discount offers, Catalyst Boot Camp Program for SAT/PSAT/ACT preparation, Graduation DVDs, Reflections Program and more. Join today!
  Click here for 2013-2014 Member Application 
to begin the secure registration process